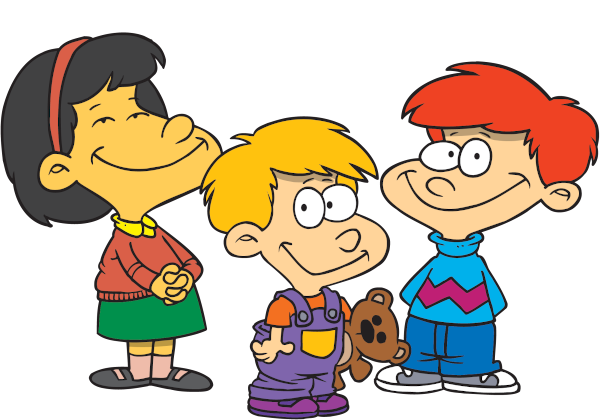 Parent
Handbook
Planned Absences and Missed Days
Uniquely, we are able to adjust our fees accordingly if you give us a minimum of seven days' notice that your child or children will not be attending the daycare. This means that you won't be required to pay for vacations, when grandparents are in town, or really for any reason whatsoever - provided that you let us know at least seven days in advance of the absence. Under these circumstances we may fill your vacated spot with a child who needs drop-in care. Your regular scheduled days will of course continue on your return.
Since centre operating expenses (rent, staff salaries, etc.) are continuous, we regret that daycare fees cannot be adjusted for illness and/or other missed days if you are unable to give us seven days notice.
Our Facilities
We seek to provide a wide range of top-quality, age-appropriate activities for each of the groups of children that we care for. These include Infant / Toddlers and Three to Fives on the lower level and two School Age groups (one upstairs and one downstairs at the south end of the lower level).
We ask that all children (Infant / Toddlers, Three to Fives, and those in School Age care) be dropped off and picked up via the north entrance. Kids In Paradise parking for drop off and pick up is available on the north and west sides of the centre.
Termination Policy
If you need to withdraw your child from our care, we require written notice one full week in advance. Fees up to and including the notice period remain payable in full.
If it becomes apparent that your child is unable to adapt or adjust to our program or that we are unable to meet your child's emotional or physical needs, we reserve the right to give you one month's written notice of termination of care. We also reserve the right to terminate care without notice in the case of a violation of the terms of our policies or procedures as outlined in this Parent Handbook. In the highly unlikely event that care is terminated in this way, all post-dated cheques not applied to fees will promptly be returned to you.
Parent Communication
At Kids In Paradise we see parents and caregivers as partners. We have an "open door" policy for parents and encourage you to visit our centre. Parents have an open invitation to visit, stay and be involved in their child's activities.
We strive to work to form effective partnerships with parents through:
Open and honest communication;
Genuine trust and understanding; and
A commitment to work together towards shared goals in relation to your children.
Caregivers are available to talk informally with parents as they drop off or pick up their children each day; however, because these are busy times, appointments are advised so that our caregivers may give their undivided attention to you. You may request an appointment to talk with our Manager, Alanna Belding, or with the rest of our excellent care team at any time.
We also ask that you please let us know in advance if your child will be away from Kids In Paradise for any period of time due to illness or other extenuating circumstances. This helps us plan our activities throughout the day according to the numbers and needs of the children in care. Thank you.
Extracurricular Activities
Kids In Paradise will transport children to and from their local extracurricular activities (such as hockey, gymnastics, music lessons, dance, swimming, etc.) while you are at work. This will enable your child to participate in activities that normally are not available to children in care. We want your child's day care experience to be as close as possible to that of an extended family.
A fee for this service may be charged, but, if we do, we will charge only enough to cover our out-of pocket expenses for this service. If this service is of interest to you, please ask us for more information.
Our Daily Schedule
Consistency and routine is important for children. Accordingly, we have scheduled times for teacher-lead activities such as circle time or art projects, snacks, meals and naps. However, it is our policy to be as flexible as possible within our program and to allow children to choose their own activities freely throughout the day. Regardless of what activities they choose, our staff will be there to supervise, encourage and provide assistance as needed.
Lunches and Snacks
Eating nutritious food is an important part of your child's day. Food provided to your child by Kids In Paradise will be selected in accordance with Canada Food Guide requirements. We take seriously our responsibility to promote healthy eating and good nutritional habits for your child.
Our staff will:
Encourage your child to eat a variety of foods;
Be sensitive to individual food preferences, cultural preferences and any restrictions or allergies;
Provide sufficient time to eat;
Never force your child to eat; and
Heat prepared lunches in a glass microwave safe dish supplied by the centre.
The centre will:
Provide beverages at snack time and lunch time including milk, juice and water;
Ensure that your child has access to beverages during their time at the centre; and
Ensure that additional nutritious snacks are available on site at all times for children who require additional food.
Children look forward each day to what their parents have packed them for lunches and snacks. We request that you:
Provide a nutritious lunch and snack each day for your child;
Provide infant formula if your child requires it;
Provide any special food your child may require in his or her diet such as Pablum, infant cereals and prepared foods; and
Inform us if your child has any diet restrictions or food allergies, or if we should expect changes in your child's food intake.
As a licensed daycare centre, we are required by the Child Care Licensing Regulations to follow Canada's Food Guide. The following food items are being discouraged as part of your child's lunch: pop, chips, candy, chocolate, fruit roll-ups or other gummy-type treats.
Program Activities and Field Trips
Kids In Paradise has designed a number of programs specifically tailored for the children in our care including swimming and gymnastics. We experience high participation rates in these programs and both parents and children are thrilled with them. If you are interested, please ask our Manager, Alanna Belding, or one of our staff.
Because children learn so much from what they see and do, we regularly take the opportunity to explore our community through field trips. We have Kids In Paradise vehicles to transport the children and their caregivers to the location of the field trip. We welcome parents who would like to attend with their children, but ask that parents let us know if they intend to drive their own child.
Details regarding field trips and permission slips for parents to sign will be handed out in advance of each outing.
Drop Off
Children must be accompanied by an adult when they are dropped off at the beginning of the day. We ask that parents remain with their children until they are handed over to their caregiver. Parents are, of course, welcome to stay as long as they choose to. Please remember to sign you children in on our daily attendance sheet (near the entrance to each care area).
Managing Illness
Many childhood illnesses are very contagious at the onset of symptoms. Parents are requested not to send their child to the daycare facility if they suspect he or she is becoming ill. During the course of day, a child may develop the beginning signs of an illness, symptoms such as a fever, nausea, aches, or a bad cough. If this occurs, parents will be called immediately and asked to make arrangements to have their child picked up from the daycare as soon as possible. We will make every effort to keep the child resting quietly while he or she awaits pickup.
If a child has been seen by a doctor for an illness, the child should not return to the daycare facility until the doctor has deemed the child no longer contagious and he or she is able to be at the daycare without putting other children at risk. Parents are requested to provide instructions to us in writing regarding any special care for a recuperating child.
If a child has temperature of a minimum of 100.4F/38C, the parent/ guardian will be contacted to pick up their child. The child may return to daycare when the fever has broken on its own, without the use of medication. If a child vomits while in our care, their parent will be notified to pick up. The child may return to the centre after 24 hours from the last time the child vomits. Regarding diarrhea, if a child is not able to make it to the washroom or the diarrhea cannot be contained (in a diaper) then the child's parent will be called to pick up. The child may return to the daycare once the diarrhea has subsided.
To protect the health or our children and the caregivers, we will refuse entry to any child we suspect of having a communicable disease such as chicken pox, measles, etc. Parents are requested to inform the daycare facility within 24 hours of their child being diagnosed with or exposed to a serious illness or a communicable disease.
Children with head lice must have the nits combed out of their hair and the appropriate shampoo treatment before they will be allowed to return to the daycare.
Our program consists of daily outings, rain or shine. Children who are not well enough to join us in our full program of activities are to remain at home until they are fully able to participate. Parents are requested to ensure that their child has appropriate outerwear at the daycare, so the child may always remain warm and dry on our outings.
Medication
Our staff will not administer any medication (prescription or otherwise) to your child without appropriate written consent via the Permission to Administer Medication form (available at the day care centre). This form will be used by the caregiver to record the details of the administering of the medication, and this will in turn become a part of the child's record.
In the event that medication is to be administered while the child is at Kids In Paradise, the medication must be in the original container. Prescription medications will only be administered as per the prescribed directions.
Medications must be given directly to the caregiver who will ensure the medication is stored in a safe and secure manner.
Guidance and Discipline Policy
The guidance and discipline policy used at Kids In Paradise is consistent with requirements outline in B.C. Ministry of Health Booklet "Guidance and Discipline With Young Children", developed by the Provincial Childcare Facilities Licensing Board in cooperation with the British Columbia Day Care Action Coalition and Early Childhood Educators of B.C.
We know that children learn and develop in different ways and at different ages. Encouraging and assisting them to learn and develop at their own pace will give them confidence and self-worth. By giving children guidance, understanding, and a safe, properly controlled environment, we provide a healthy environment in which each child's self-esteem is enhanced, play is encouraged, and a warm, loving atmosphere is maintained.
Guidance and discipline strategies, when they are needed, provide a means for correcting negative behaviour and for assisting a child in getting control of his or her behaviour. Our strategies are never used as punishment.
Our goals in guidance and discipline are to:
Promote each child's health and well-being,
Create and maintain safe and healthy environments for children,
Foster all facets of children's development,
Enhance each child's feelings of competence, independence, and self-esteem, and
Refrain from in any way degrading, engaging, frightening, or harming children.
Our guidance and discipline strategies include:

Prevention

Establishing clear, consistent, and simple limits;
Offering straightforward explanations for limits;
Stating limits in positive ways, rather than negative ways;
Focusing on the behaviour, rather than on the child;
State what is expected, rather than posing questions;
Allowing time for children to respond to expectations;
Reinforcing appropriate behaviour, with both words and gestures;
Ignoring minor incidents;
Encouraging children to use caregivers as a resource; and
Scanning and anticipating potential problems.
Intervention

Gaining the child's attention in a respectful way;
Using proximity and touch when appropriate;
Reminding;
Acknowledging feelings before setting limits;
Distracting or diverting when appropriate;
Offering appropriate choices;
Using natural and logical consequences;
Redirecting;
Limiting use of equipment,
Providing opportunities for children to make amends; and
Time away
At Kids In Paradise children are always encouraged to be social and relational. As such, "time away" is used only as a last resort when no other intervention strategy has resulted in corrected behaviour or when continued social interaction will have a negative impact on other children and where this is the best opportunity for children to get control of his or her behaviour and/ or emotions.
The following forms of discipline are considered inappropriate and are never used: hitting, spanking, belittling, and deprivation.
Screen Time Policy
Because we care about the health and well-being of children in our care, we are following the Province of British Columbia's requirement on screen time.
Screen time includes the use of television, videos, computers, personal electronic devices, and video games while the children are in our care.
Kids In Paradise understands that television and other screen time can get in the way of playtime, physical activity, and interactions with others, which all contribute to learning and healthy physical/social development.
We will restrict screen time by adhering to the following guidelines:
We do not have television or movies playing during mealtime.
We do not allow television or movies to be left on as background noise.
We do not rely on television, movies or computers to fill space in our daily schedules.
We do not use television, movies or computers as back-up for outdoor play in the event of inclement weather.
We do not offer screen time as a reward.
Infant and Toddler Program
Children under the age of two years will not be allowed any screen time.
Children ages two and older will be allowed screen time for up to thirty minutes daily.
3-5 Year Program
Children in this program will be allowed screen time for up to thirty minutes daily.
Out of School Care Program
No Screen time will be offered before or after school.
On professional days, non-school days, early dismissal days, or during Spring Break, Summer Break and Winter Break, the children will be allowed to have screen time for up to thirty minutes.
Exceptions - video games involving physical activity, music, movement, (Just Dance, etc.). The children will be allowed to participate in these activities for up to thirty minutes.
Emergency Evacuation Locations
In case of a fire, earthquake, or natural disaster, we will safety evacuate the building and make our way to:
The century storage units in the far Southwest corner of the parking lots (assemble outside storage units 49-51). Staff will take attendance again to ensure that all children are accounted for.
In the event there is a fire is in buildings near the Century storage units, we will then assemble at the east end of the Century Square complex near the Tsawwassen Animal Hospital parking lot/grassy area.
If neither of these locations is safe to proceed to, we will head to Imperial Park.
Birthdays
Birthdays are an exciting time for children and we treat them as special days at Kids In Paradise. If you would like to send cookies, muffins, cupcakes, etc. for the children in your child's group, please advise one of our caregivers in advance.
Centre Closings
Kids In Paradise will be closed on all Statutory Holidays and during the week between Christmas Day and New Year's Day. As Easter Monday is not an official Statutory Holiday, we will be open if you require care for your child or children.
No Smoking Policy
At no time will smoking be permitted anywhere on the Kids in Paradise premises. Parents who smoke are asked to put out cigarettes before arriving at the daycare, as the smoke often has a way of wafting its way inside.
No Perfume Policy
As some people are very sensitive to strong scents, we request that the children do not wear perfumes or other heavily scented products to daycare.
Staff members are not permitted to wear perfume while at work.